Planning Permission on Your Farm 
How do we look to achieve planning permission on your farm?
At Foxes Rural Consultants we know that as a farmer, you want to achieve planning permission on your farm as smoothly and as quickly as possible without the hassle of the planning system.

In order to do that, you need a simple and proven way to give you the highest chances of achieving a successful planning permission on your farm.
The problem is, there is too much paperwork, a minefield of planning legislation and an unclear route as to how to achieve that planning permission, which confuses you and can often lead to you not exploring or maximising planning proposals on your farm.

We believe that as a farmer, submitting planning applications should be simple and hassle-free for you. Planning applications can be presented in a simple and easy to understand format on your farm, that considers planning issues before you submit an application. This means that you shouldn't have to waste time reading through endless planning documents, when this time can be put to running your farm instead.


95% success rate for planning applications submitted in the past 12 months
Here's how we do it:
Instead of you having to waste time trying to comprehend the planning system on your farm, you can get hours back to work on your farm business.
We appraise your farm as a whole and evaluate the planning history in the context of your planning strategy and objectives.

Prepare a comprehensive and well considered planning application which pre-empts the core planning issues that are likely to arise with your application.

Work with you as the farmer in a timely manner to get the application submitted.

Co-ordinate with the Local Planning Authority during the submission stage of the application.
1,000 sq.m floor limit every 2 years
In this mini video about permitted development rights on farms, Guy French of Foxes Rural explains that the agricultural buildings are limited to 1,000 sq.m cumulatively every 2 years.
25 metres from trunk or classified road
In this mini video about permitted development rights on farms, Melanie Bingham-Wallis of Foxes Rural explains that new agricultural buildings must be located a minimum of 25 metres from a trunk or classified road. Where a road is unclassified the development can fall within 25 metres of the road.
Minimum holding size 5 hectares
In this mini video about permitted development rights on farms, Guy French of Foxes Rural explains that the minimum holding size for new agricultural development is 5 hectares.
Our Unique Permitted Development guarantee
We guarantee to give you a unique and energetic planning service specifically for you as a farmer and guarantee to have any farm related permitted development planning application submitted to the Local Planning Authority within 28 days of being instructed.

Guide to Permitted Development Rights for Farms
Download our book on 'Permitted Development Rights On Farms' by entering your email address below.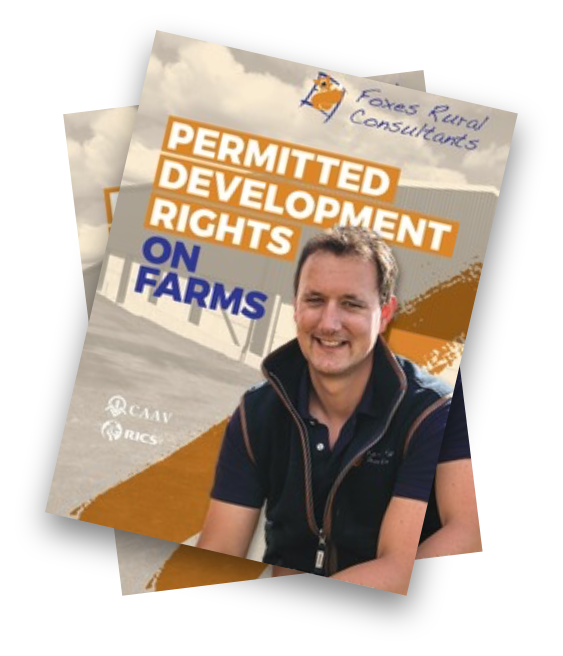 What our clients are saying
I worked with Foxes Rural relating to a planning application for our a new agricultural building and farm access. Melanie came out to the farm to inspect in a swift manner and we achieve permission within a matter of weeks. A very swift and efficient service where I was kept well informed during the planning process. We also worked with Foxes Rural in respect of the change of use of agricultural buildings to commercial and they swiftly resolved issues with the planning officer which facilitated the move of the new tenant and achieved the approval within the agreed timeframe.

Melanie worked with us to prepare a Class R change of use of one of our pole barns to commercial. This was a permitted development application and Melanie came up with an innovative way of approaching the application and the change of use. We have now completed the building which is providing diversified income for our farming enterprise.

I instructed Foxes Rural to undertake planning for a new farm yard and grain store on our farm. Guy came up with the solution of applying for both of these proposals using our permitted development rights rather than full planning. Melanie handled the preparation and submission of our application and within a matter of weeks from issuing instructions I received approvals for both proposals. The applications were comprehensively drafted and the company had an excellent understanding of how the planning process works on farms.

We instructed Guy and his team to prepare a planning application for the relocation of our business to the Tendring District. We had outgrown our previous unit and wanted to relocate to a rural location which gives us space to expand. The planning application for the commercial change of use for an agricultural building was submitted quickly and efficiently. The application had a number of issues that arose following its submission based on concerns from the planning officer. Guy co-ordinated these issues very quickly and found solutions on our behalf to overcome these to enable us to have the planning consent we needed for the operation of our business. This planning permission has enabled our business to implement rapid growth plans and there has been significant value in the permission that Foxes Rural achieved for us.